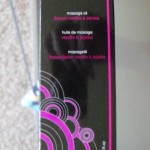 The box
The Ono Massage Oil is a massage oil made by ONO Pleasures. This oil comes in three different kinds: French Vanilla, Lemongrass, and Red Mandarin. There are the same different kinds that the massage oil candles come in. For my review, I received the French Vanilla variety. This bottle comes with 2.5 fluid ounces, and it comes in a squeeze-top bottle.
The packaging for this bottle is gorgeous. It does come in its own box. This box is plain black except for the portions where it shows the name of the product as well as some of the designs of the box. The box does come with a tamper-proof seal so you will know if someone has tried to mess with your massage oil. Inside the box is the bottle. As the bottle is its own packaging, you don't need to keep the box, but the box does give it a much more professional appearance.
The smell is fantastic! I definitely like the smell of this one more than the candle. Because of the wax, the smell of the candle was much more muted. With this massage oil, the smell isn't muted at all anymore. It smells like a soft, sensual french vanilla. It isn't overwhelming at all, but instead, it actually has a softness to it that makes it very easy to smell and very soft on the senses. You can still tell it's there though. It's more of a sensual scent than any gender-specific scent, so I would imagine that both males and females would probably enjoy the scent.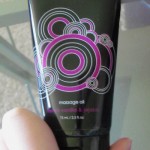 The bottle of massage oil
It applies nicely. It is pretty watery, but that doesn't get in the way of it too much. I think one of the biggest issues we had with this one is that it dries up a little too quickly. I'm okay with this because I'll just add more of the massage oil to his back, but it does dry up pretty quickly if you're the type of person that likes to place it and leave it. This aspect didn't bother me because, while it dries up quickly, it also does not get sticky at all. It stays nice and soft once it's dried up.
So yes, it does work as a great massage oil, but it does require reapplications. However, after you're done using it, it's very easy to clean up with soap and water, and it doesn't leave you feeling sticky or gross. In fact, if you just use a little bit of it, you actually can get away with just wiping your hands on a towel and the massage oil feeling will go away. That's definitely a plus for me!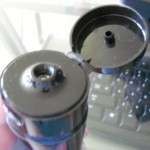 The pop-top of the massage oil
I have found an amazing non-sex use for this massage oil as well. I don't usually use massage oils for non-sex uses as they tend to make my fingers feel icky afterwards and require me to wash my hands after application. However, this one does clear up really nicely when washed on a towel, so I've been using it in a non-sex way. It actually smells amazing, so I've been using this massage oil dabbed onto my inner wrists and my neck. The scent lasts for about three hours, and it's amazing to be able to smell it while you're working, and the boyfriend has remarked on the scent a couple times as well. It's a neat non-sex use as it doesn't make my skin feel oily or dry, but instead, it just makes my skin feel softer and give off a sexy scent. I like it for the non-sex use as well.
The neat thing about using this is that it seems to make the skin softer afterwards as well. I wasn't expecting to have my skin be softer after I had finished using it, but it was noticably softer afterwards. This doesn't seem to last all that long (just like regular lotion), but over time, it might make your hands softer overall like lotion would.
The ingredients are: Prunus armeniaca (apricot) kernel oil, vitis vinifera (grape seed) oil, simmondsia chinesis (jojoba) seed oil, and perfume (benzyl benzoate, vanillin). We didn't have any irritation to the ingredients in the slightest. From what I can see, the ingredients appear to be all natural which is always a good thing.
We did like the ONO Massage Oil. The scent is just perfect – smells great, isn't overwhelming, and carries and lasts beautifully. The massage oil lets your hands glide over skin really nicely, but it does require some reapplications to keep it that way. However, afterwards, your skin will smell and feel better, and the massage oil doesn't seem to get very sticky either. I definitely like this stuff.